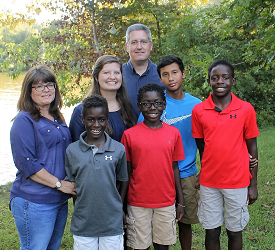 You could say the Spangler's are just your average every-day family of 9 representing a couple of states and 3 countries – with a love for each other and a passion to serve God. Plus they love sports, the Broncos, mountains and Arsenal (depending on who you ask).
Ok – maybe not exactly ordinary.
The Spangler's are Duane and Sarah (Dad – Mom), Megan (married and the first to leave the nest), Bekah (currently finishing college and studying Teaching English as a Second Language), Melissa (19 years old and a huge heart for kids), James (13 year old, a great young man in the making, and part of their family through adoption from Guatemala) – and their 3 Ugandan sons – Gavin (11 years old and a very determined, creative type), Ben (11 years old and focused on everything sports – particularly basketball) and Max (10 years old and is the musical, artistic and "reading machine").
While they are Colorado natives, they enjoyed 13 years in Minnesota before God relocated us to the Knoxville, Tennessee area 4 years ago. Duane has spent his career in the insurance (claims) business, and Sarah has worked over the years in providing daycare, and is now on staff in their church's Children's ministry.
Most Saturday's, you will find them chasing some sort of ball around a field or court. Or if Duane has politicked well, he and some of the boys might be headed to the Smoky Mountains for hiking or backpacking. Outside of that, they are your ordinary family that works to plug into what God places in front of them to serve – whether it is on Sunday mornings in Children's ministry, or Wednesday nights in Middle School Ministry.
Challenged to live an extraordinary ordinary life.
With that in mind, over the past several years, God has presented the notion of serving at Amani Baby Cottage in Jinja, Uganda. It is an incredible ministry. However, as its director has recently moved back to the U.S., it is in need of consistent leadership. He has shown us how our family's collective gifts and abilities are a great fit for Amani's needs in caring for His kids there. They are excited - and a little anxious, to be honest - but also believe that by giving up what is comfortable, they will be positioned to serve Him in a unique and powerful way!
For more information about the Spangler's please visit their site: Spanglers 2 Uganda
We Are Coupons supports the Spangler Family financially with their mission. Ten percent of every purchase from this site goes to support them at the Amani Baby Cottage.